Solar Screen shades block the sun, but not the view.
Allow as much natural light into a space as possible while controlling heat and glare. Solar screen fabric is available in a wide variety of colors, styles, and openness factors to meet almost any criteria.
Woven to precise standards, our fabrics consist of polyester or fiberglass yarns with a vinyl coating and are woven in a range of densities from 1% to 14%.  Fabric density affects the amount of UV and glare protection, as well as the clarity of view.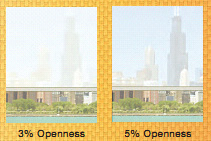 All images on this page are owned by Insolroll© 2013. Images are used for resale and promotional purposes.